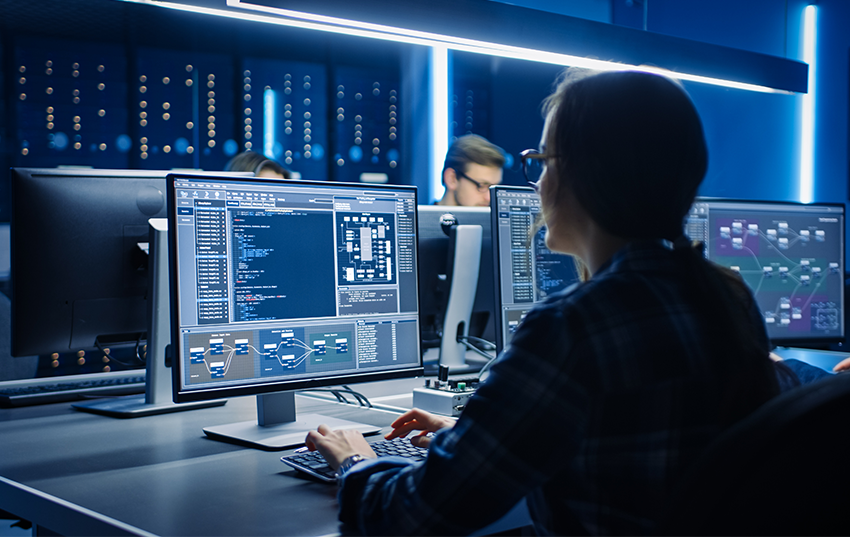 While some IT trends have been stifled by the coronavirus pandemic, research conducted by the 451 Alliance has shown the opposite phenomenon in DevOps.
According to Jay Lyman, a senior research analyst with 451 Research's Cloud Native and Applied Infrastructure & DevOps channels, organizations are turning to such transformative technologies in an effort to turn the seismic disruption of the global outbreak into new ways of reaching their customers.
"The pandemic has been an illustration of the need for digital transformation, the need for DevOps and the ability to spin out an application in a matter of hours or days to, say, buy a car without going to the dealership or have your groceries delivered without going to the store," noted Lyman, addressing a webinar audience of IT professionals on the state of DevOps.
Lyman went on to present data collected in a 451 Alliance survey on DevOps, which revealed that 31% of IT professionals said the COVID-19 outbreak had actually accelerated the pace of DevOps adoption, with 13% reporting they had introduced DevOps for the first time during (and possibly as a result of) the pandemic.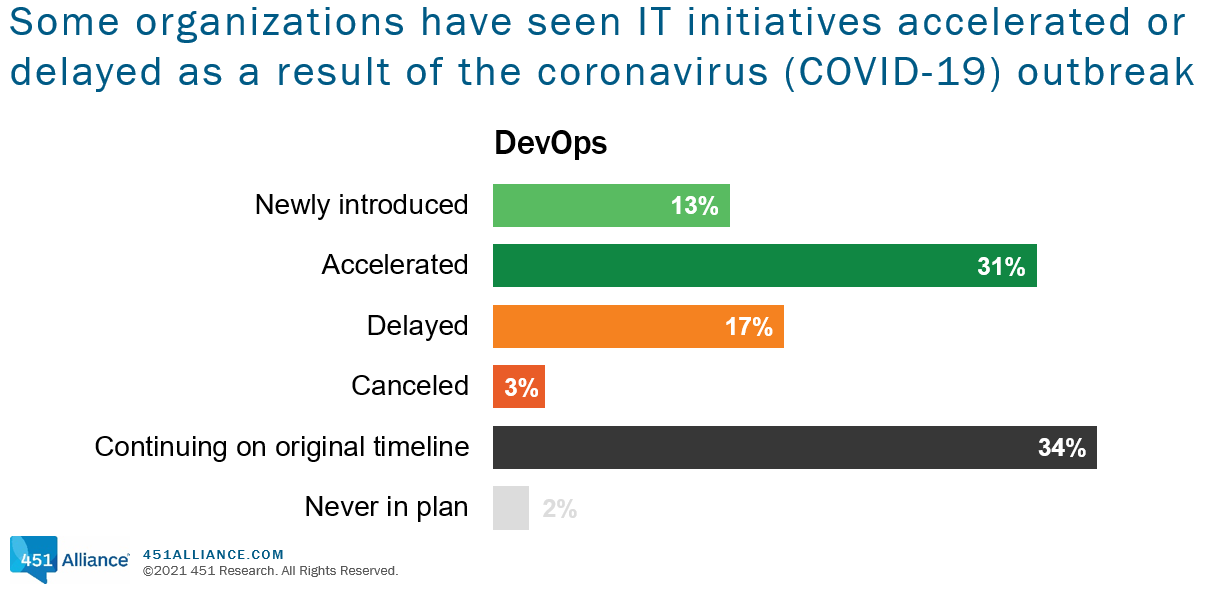 An additional 34% said there had been no effect on their rate of DevOps deployment, meaning that more than three-quarters of respondents indicated their organizations' DevOps deployments were not only immune to the virus, but may have been bolstered by it.
DevOps brings speed, agility, iterative improvement
Chief among DevOps' benefits, as revealed by the 451 Alliance survey, is its enablement of faster, more responsive software development processes. The ability to continuously test, modify and improve code drives a more fluid and efficient development cycle, which is a defining component of DevOps.
"We do hear about future-proofing [IT operations], and it's really about responsiveness and the ability to respond to things more strategically, and to avoid being in triage mode," observed Lyman.
"This is where not being afraid to fail, but 'failing fast,' becomes a building block of the feedback loop that drives the goal of continuous improvement."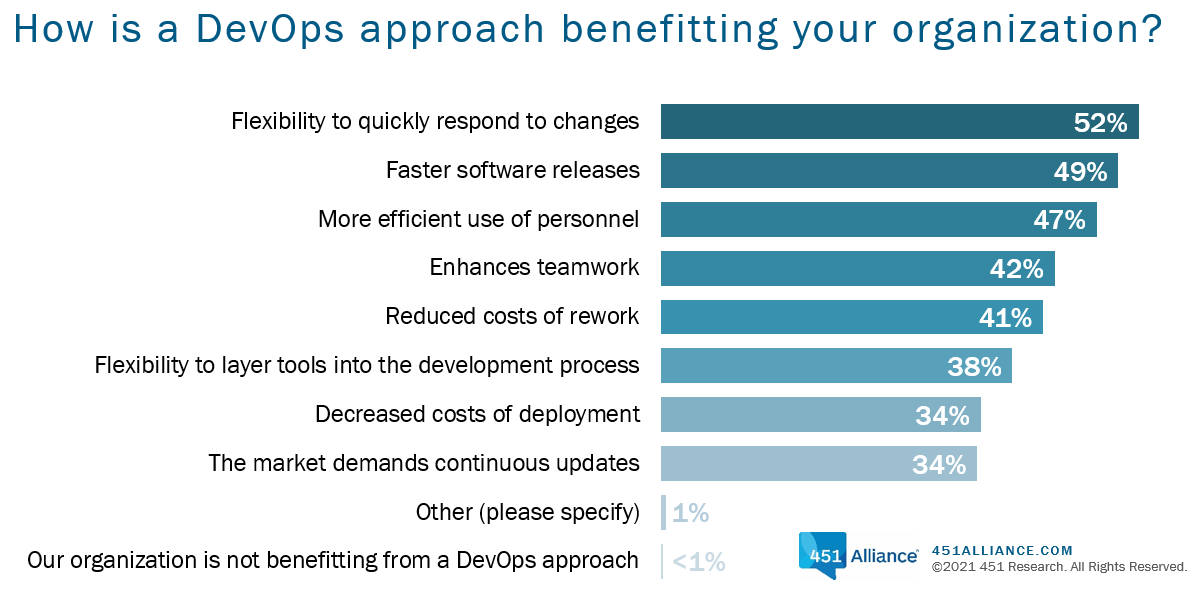 "This highlights [the] real-world implications… for your ability to deal with changes in the market – whether that's technology, like cloud native and containers; whether that's a security issue that's widespread; or whether that's a whole pandemic," he said.
Containers or VMs? How about both?
Lyman has heard the prognostications of containers supplanting VMs, but says he sees a continued coexistence of the two compute modalities. "A lot of folks think that, as we see more adoption of containers and Kubernetes and serverless, [those technologies are] displacing virtual machines, and I'm here to say, that's not true," he reported. "We see that most containers in the enterprise are running on top of or inside VMs."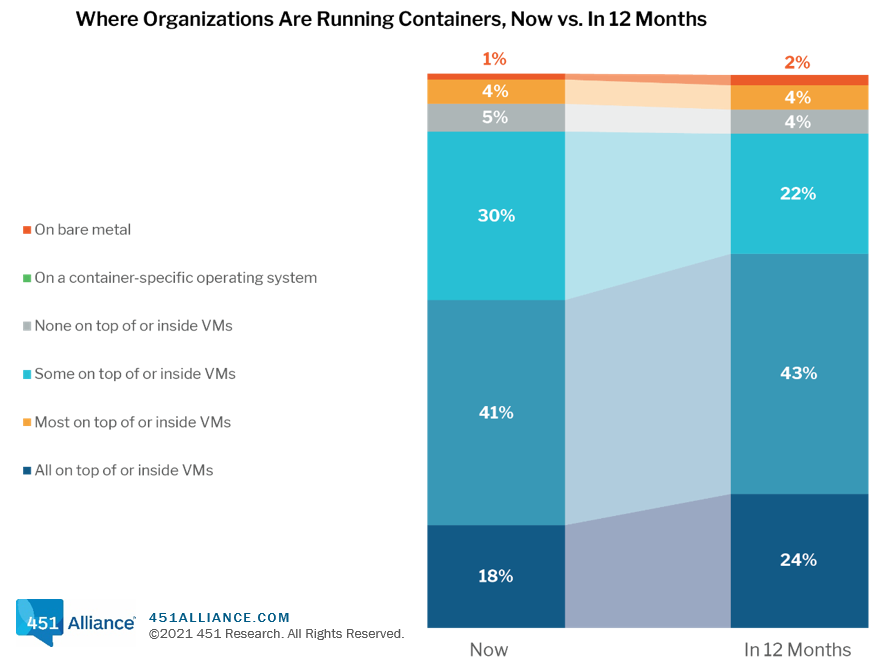 "I argue that VMs are still the currency of enterprise IT; that's largely how the hyperscalers are still running," Lyman posited, adding, "I often say, just as we have mainframes and physical servers alongside our virtual machines today, we will likely have… VMs alongside our containers in the future."
---
This webinar was part of a monthly presentation of research results offered as a benefit to members of the 451 Alliance. The webinar recording and accompanying slide deck are available exclusively (and at no cost) to members on the 451 Alliance member portal, along with a complete library of on-demand research products.
We thank our members for sharing their knowledge with peers through their participation in our quantitative surveys and qualitative interviews.