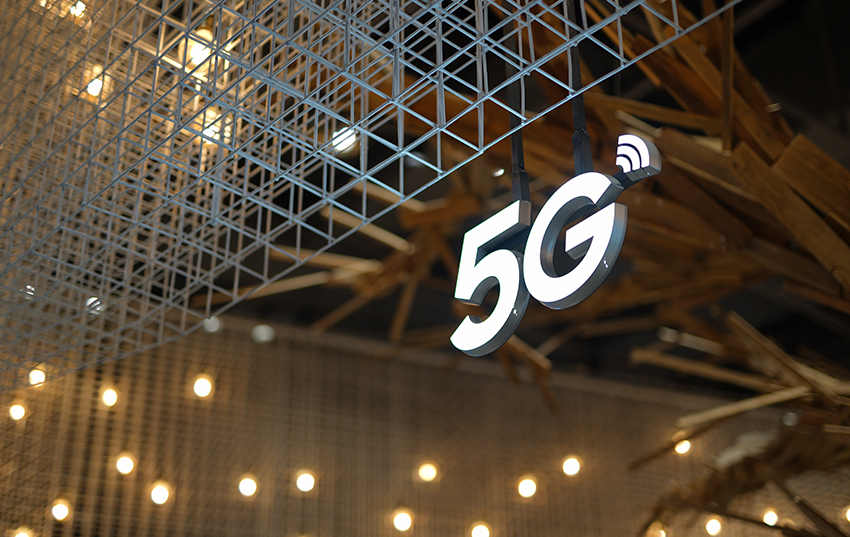 Consumers are routinely bombarded with the phrase '5G,' whether in the context of a service provider, a device manufacturer or even in the news. Recently, the ongoing 5G rollout hit a snag with the Federal Aviation Administration (FAA) over concerns that the new wireless technology could interfere with flight operations. In all likelihood, solutions will be found to address outstanding concerns and technology fixes will be applied as necessary to prevent any issues of this nature from popping up in the future.
While this episode refers to failures surrounding air travel safety, it does bring up the question of how consumers view 5G overall. In 451 Research's Q4 2021 Connected Customer survey, respondents were asked about the impact of 5G on human health. The largest group of respondents (39%) indicated that they don't know if 5G is safer than 4G/LTE, and 29% think there is no difference. While it's no surprise consumers are less knowledgeable about the ins and outs of a new technology, if there are lingering concerns about 5G safety, it will be incumbent on the industry to make sure consumers have up-to-date information to assuage any concerns that could affect adoption of 5G-enabled devices or services.
The survey also asked respondents about their knowledge of this new generation of wireless services, with 55% saying they know most/all or some of 5G's capabilities over 4G/LTE services – a tick lower than our Q2 survey. Expectations based on their current understanding of and experience with 5G capabilities remain stagnant, with half of respondents believing it will have a major (26%) or moderate (23%) improvement on the overall quality of their daily lives. This sentiment is virtually unchanged compared with last quarter.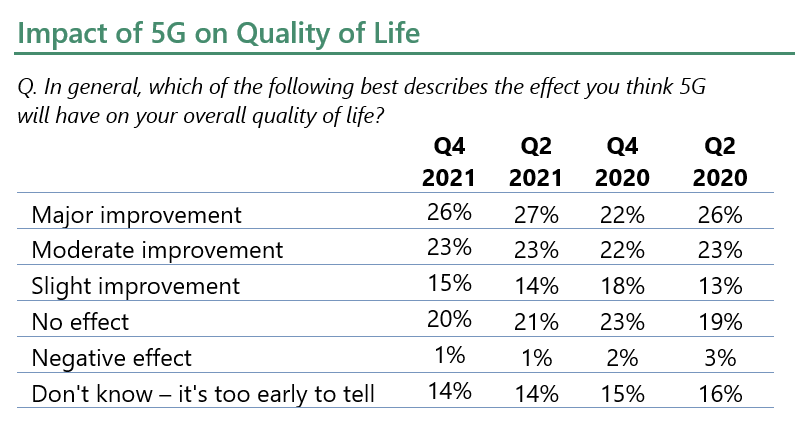 Consumers still only have a general sense that 5G will be better than 4GA/LTE. In all likelihood, they will continue to upgrade to 5G-compatable phones, which will also upgrade them to 5G coverage in the process. It will still be a while before any new blockbuster apps or use cases arrive that will start to leverage the true potential of 5G services. This is highlighted by the fact that, when asked about potential functionalities, the top answer remains 'don't know' (32%).
Among actual functionalities that were selected, the top choices were 'receive better broadband service/coverage in rural areas' (28%) and 'work from anywhere' (21%). They were also the top two choices in the three previous surveys, and reinforce the baseline expectation that 5G will deliver on the promise of greater mobility above all else.
We then asked respondents what capabilities would motivate them to get 5G coverage in the future, finding 'faster downloads' (32%) as the most desired. This was the top choice in the three previous surveys, as well, and further illustrates how current consumer desires are centered on improved functionality they are already familiar with. Simply put, they have no point of reference for understanding the fantastical sounding promises of the new technology. Much like many of the apps used today, it will take the creation of something new to make consumers see the value and the need.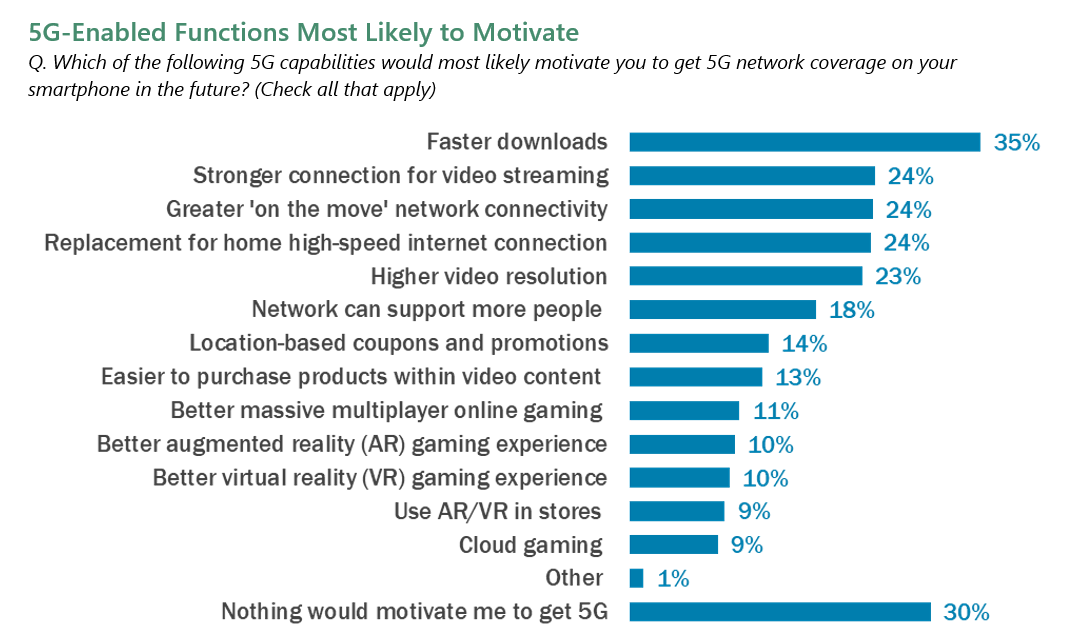 ---
Want insights on emerging technology trends delivered to your inbox? Join the 451 Alliance.