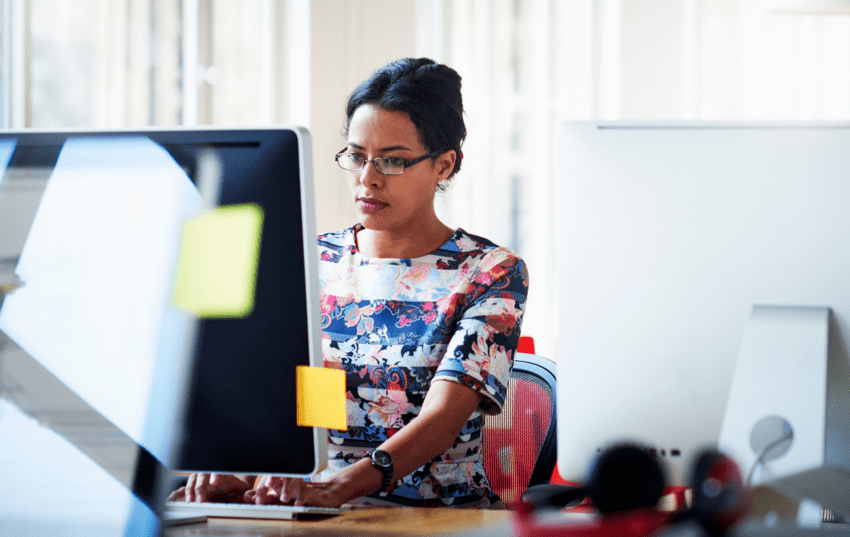 There is little denying that the center of gravity in business software tools has been moving from niche point offerings to more converged business application systems — a shift we initially termed systems of delivery. The basic premise is threefold: First, the rigid technology silos that teams work across are the main obstacle to the more agile operating models that are seen as the path to greater business resilience; second, more synthesis of information, data, workflows and people across silos is needed, and APIs connecting niche apps alone will not provide that synthesis; and finally, new kinds of enterprise platforms are emerging as a result.
This is spurring significant consolidation, marking the start of a second era for SaaS. In this two-part report, we explore how consolidation is happening across different domains, pointing to a radically reconstituted future for business applications. Part 1 focuses on employee, customer and business automation technologies.
The Take
The wave of consolidation says something significant about the demand and supply sides of the business application landscape. As digital transformations mature, it becomes less about the technology and more about how technology is supporting new ways for organizations to structure, organize and operate — reducing blind spots in strategy, aligning planning with increased speed of execution and building a culture of operational resilience. This requires more data-driven intelligence, democratized automation and cross-functional collaborations, which means more consolidation in the technologies underpinning those things.
Context
The industry is used to talking about a wide landscape of point products — thousands of niche marketing technology vendors, for example — but the future will require a better understanding of these new platforms and the ecosystems of niche tools around them. Our two-part report examines what those new consolidated platform stacks are beginning to look like, as well as how we view the business application landscape as a whole.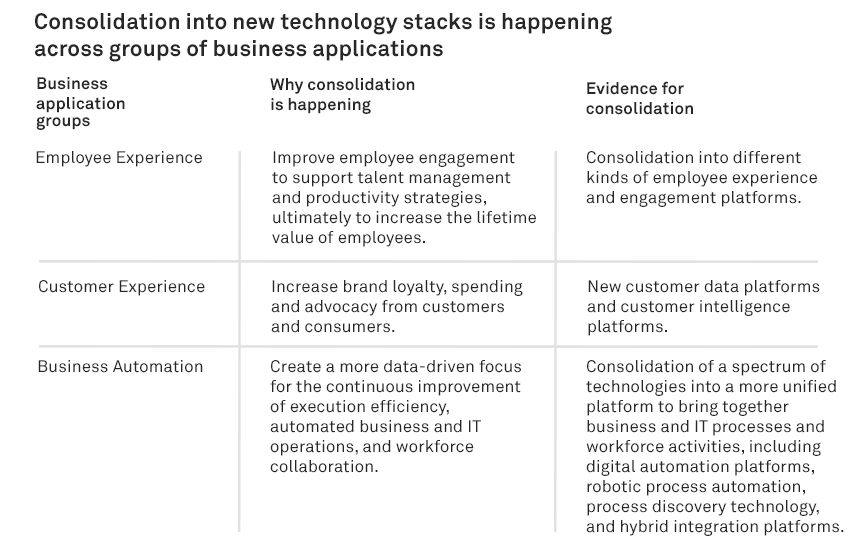 Employee experience
In most companies, the employee experience (EX) is fragmented across disconnected touchpoints and technologies — it may not even be strategized beyond core processes like onboarding, performance management and compensation. More businesses are realizing the bar must be higher to recruit and retain talent, develop more skills resiliency, and support operations agility. Employee engagement is now the HR function that organizations are investing the most in over the next 12 months.
This means that EX is catching up with developments across customer experience (CX). In fact, the term "total experience" has arisen to describe how businesses are beginning to strategize CX and EX — not as separate things but as an infinity loop, each impacting the other, based on the idea that achieving a positive CX is not possible when an organization is neglecting the employees responsible for delivering it.
Our Technology Ecosystems 2022 survey of IT decision-makers indicates EX platforms are deemed the workforce technology with the greatest game-changing potential over the next two to three years. Coined in 2019, the term came into the limelight with Microsoft Corp.'s 2021 release of its Viva platform that brings together company information, communities and conversation, people and productivity analytics, objectives and key results, social learning, and knowledge management, along with role-based experiences like Viva Sales.
Meanwhile, ServiceNow has developed a narrative around the unified EX, and Salesforce Inc. says Work.com (launched in 2020) provides an all-in-one platform for EX with a focus on well being and HR services. Salesforce is also heavily investing in Slack as a more unified productivity and collaboration experience arrayed across its different products. Meta's Workplace sits somewhere between a business communications and employee engagement platform. Qualtrics (after its acquisition by SAP for $8 billion in 2018, and its subsequent spin off in 2020) positions as an experience management company with its Employee Experience Management, designed to optimize EX across the employee's lifecycle.
Various vendors from the intranet, knowledge management and employee engagement spaces, like Akumina, Culture Amp, Huler, Jostle, Lattice, Unily, WorkTango and Workvivo, have also adopted the term "employee experience platform," or similar.
Customer experience
As we have highlighted here and here, businesses are doubling down on their demand for more context, collaboration and control in all customer interactions, which requires investment in new technologies that optimize how teams work together to deliver CX.
Keeping up with the velocity of digital experiences amid growing consumer appetites is driving toward a more consolidated, flexible and iterative technology stack. One of the main areas where this is happening is around customer data platforms (CDPs), which advance the agenda of creating unified customer profiles beyond what can be achieved by basic app integration and transactional data, an approach largely based on data siloes across departments and regions.
Our Budgets & Organizational Dynamics 2022 survey shows CDPs are due to receive the highest levels of investment over the next year for service and marketing use cases, digital experience management and sales use cases. The CDP space is varied, with some vendors coming from a marketing activation perspective, some specializing in data unification, some from a product analytics angle. The large players like Salesforce, Adobe Inc., Microsoft, SAP SE, Oracle Corp. and SAS AB play in this category. Others include Twilio Inc. (Segment), mParticle, Amplitude, Amperity, Tealium, Zeta Global, Acquia, ActionIQ, Reltio and Sitecore.
The category is evolving beyond CDPs to customer intelligence platforms that seek to connect business users in marketing, sales, service and commerce to unified customer profiles, by tapping into billions of data points along the customer journey, with a greater emphasis on supporting cross-functional collaboration across those different enterprise users. Salesforce's announcement of real-time customer data platform Genie is perhaps the most recent example of this.
Business automation
Competitive advantage today is largely determined by how well digital businesses automate their operations to achieve speed, accuracy and efficiency in execution. Automation is much talked about, yet many organizations still rely on manual efforts with only limited resources. Inefficient work results in a failure to learn how processes execute so they can be improved. Several technologies — digital automation platforms (DAPs), robotic process automation (RPA), process discovery technology (PDT) and hybrid integration platforms — facilitate the automation of a variety of business and IT processes and workforce activities. Vendors in each market coexist and interact, but enterprise customers want interoperation to function as more of a unified platform.
DAPs from Appian Corp., Pegasystems Inc. and Nintex automate complex structured processes, decisions and unstructured collaborations and cases, whereas RPA vendors like UiPath Inc. and SS&C Blue Prism automate repetitive manual tasks and supplement workforces with digital skills. Both vendors and enterprise buyers realize that DAP and RPA should not be isolated platforms. Rather, they should interoperate as a holistic automation platform capable of blending the design and development of complex processes, collaborative activities and human-in-the-loop operations. This has driven considerable market consolidation through M&A in recent years.
PDT vendors such as Celonis and Soroco enable a visual, data-driven approach to process and task analysis and automation design. Some DAP and RPA vendors also have PDT. Hybrid integration platform vendors such as Informatica inc., Boomi and SnapLogic bring together disparate data, applications, processes and IT ecosystems, enabling event-driven integrations to facilitate cloud-native, edge and IoT computing. The various capabilities found across these technologies can be combined to enable an integrated intelligent automation platform to monitor and measure enterprise performance metrics in real time as processes execute.
Conclusion
The first 20 years of SaaS had a profound impact on the business applications landscape. It disaggregated traditional business applications and offered many new options for how work can be done. With the "Cambrian explosion" of SaaS apps, however, has come the challenge of many more application silos. This is where SaaS is now focusing, with new kinds of consolidated business systems attempting to remove those silos, providing more seamless data-driven intelligence, automated workflows and more productive collaboration.
The "best of breed" battle is now one of "best of suites," with vendors focused on striking the balance between modularity and deep integrations to support customers where they are in their adoption. This is the beginning of that era, but as with the consolidating stacks of technology, we can see the shape of some of those big new application domains.
---
Want insights on workforce productivity and collaboration trends delivered to your inbox? Join the 451 Alliance.