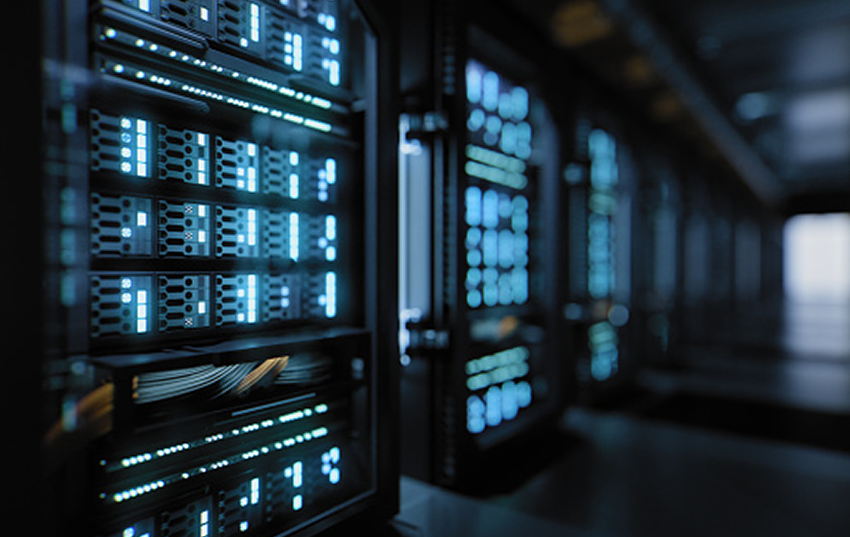 Cloud repatriation is an industry trend used to describe organizations that are moving workloads or applications away from the public cloud and into other venues. The topic has been the source of much debate among industry experts, whose opinions tend to differ on why organizations are choosing to migrate away from hyperscale cloud providers, and to what extent that behavior could impact the public cloud business.
Views on cloud repatriation and its impact can vary depending on who you ask in the industry. Hyperscale cloud providers might downplay the extent to which it is happening in order to protect their own reputation; on the other hand, IaaS, PaaS and datacenter providers could exaggerate its impacts in order to make their own businesses seem more relevant.
To better understand cloud repatriation, and the reasons behind it, 451 Research, a part of S&P Global Market Intelligence surveyed IT decision makers. The results present an interesting picture, particularly as it relates to the main drivers behind repatriation.
How many organizations are in fact moving away from public cloud?
451 Research found that, in the last 12 months, 54% of survey respondents said their organizations had moved workloads or data away from the public cloud. More often than not, organizations move applications and data together, with 36% moving both as opposed to 10% moving only application, and 8% moving only data.
Furthermore, these organizations are also moving significant portions of their workloads in the process. Of those organizations that had moved workloads in the past 12 months, 27% relocated 26%-50% of all their cloud-based deployments, and 26% had moved 11%-25% of all deployments. Another 25% relocated 51%-75%, or more than half, of their deployments. Only 4% stated they moved completely away from the public cloud.
A matter of cybersecurity or overspending? The reasons behind repatriation
The main factor driving cloud repatriation, according to survey respondents, were concerns regarding information security. Among the 54% of organizations that moved away from the cloud, 36% chose information security as the primary reason behind the move. Data locality and sovereignty issues were the next most common reasons, each being chosen by 23% of those organizations.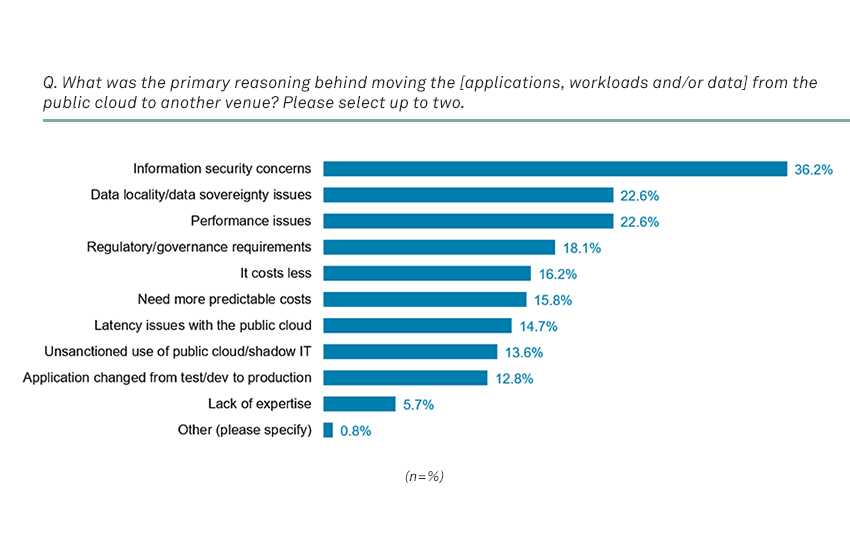 Cost and unpredictability of costs, often mentioned by public cloud competitors as the main factors behind repatriation, was selected by 16% of survey respondents. Looking more closely at the respondents that noted financial reasons behind their choice to repatriate, 42% say their bill came in slightly higher than expected (10-30% more costly), and 25% say it was significantly higher (more than 30%). These survey respondents attributed overspending with public cloud services to three main factors: lack of cost-optimization tools (19%), lack of cloud provider pricing transparency (18%) and unanticipated demand that led to higher consumption of those resources (16%).
Where do repatriated workloads go?
Repatriated workloads are most often brought back in-house. The vast majority (84%) of survey respondents whose organizations had moved workloads away from the public cloud transitioned it to infrastructure they manage. Out of the 84%, 73% opted for a self-owned datacenter, while 27% moved it to a colocation facility. Conversely, a minority chose to move their workloads to third-party infrastructure. Interestingly, out of those respondents, 48% moved to hosted private cloud.
Want more information on workload repatriation from the cloud? Listen to our Next in Tech podcast, 'Is it cloud versus datacenter?' with research directors Melanie Posey and Dan Thompson.