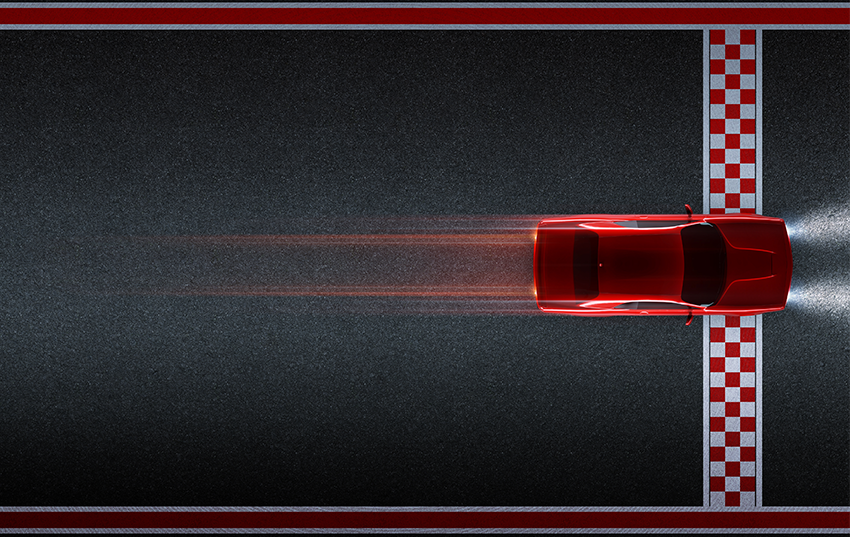 Let's examine one of the more fundamental aspects of the automotive industry – vehicle ownership trends – according to 451 Research's Q3 2021 connected customer survey.

Focusing on respondents who currently own or lease a vehicle, the survey continues to reveal a very competitive automotive industry. Toyota (14%), Chevrolet (12%), Ford (12%) and Honda (10%) remain the most popular auto brands. Beyond the leaders we find a second tier of manufacturers clustered together: Nissan, Hyundai and Dodge. While we do see some bunny hopping from quarter to quarter, on the whole, the same brands consistently place somewhere within these top two tiers.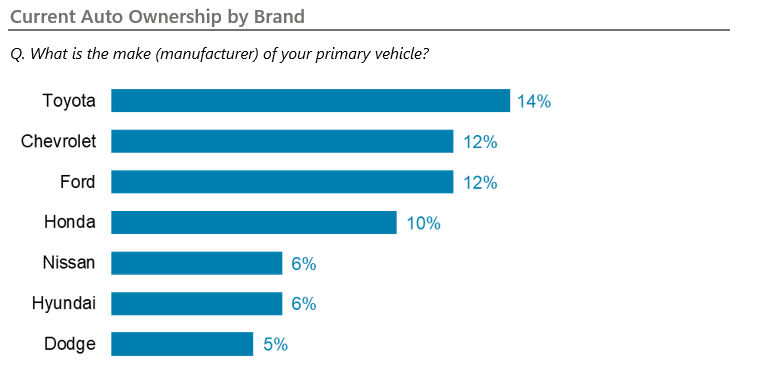 Digging deeper into the data, we see Toyota is most popular among Millennials and Baby Boomers, while Generation X respondents slimly favor Ford over Toyota. Generation Z prefers Honda the most while the Greatest Generation chooses Chevrolet products. Outside of the top choices, each generational group has three to four manufacturers that stand out from the rest in terms of vehicle ownership.

Just over half (52%) of respondents say their primary vehicle is from model year 2015 or newer. This number has gone down since the last survey, which we suspect is consumers opting to buy used vehicles due to supply constraints for new vehicles in the wake of the pandemic. At the same time, 70% of respondents say they've owned their vehicle for five years or less, which supports the overall vehicle refresh rate within the market. The healthy market for used vehicles is further confirmed when looking at the entire sample of car owners, where one-third (33%) of respondents indicated that they acquired a used vehicle from either the dealership or a used-car lot.

As noted in our previous reporting, the vast majority of vehicles on the road are gasoline-powered (86%), but this number is slowly ticking downward as more consumers buy hybrid-electric, battery-electric and alternative-fuel vehicles. Adoption of these vehicles will be gradual but steady.

Instead, let's focus on an area of vehicle technology that's having more of an immediate impact. Connected car services allow vehicles to connect to their surrounding and establish bidirectional communications. Just over one-quarter (28%) of respondents said their current vehicle is enabled with connectivity services, the vast majority of which have the manufacturer's service installed (87%). This is an important element in overall adoption of these services because less than 10% of respondents whose cars didn't come with connected services pre-installed chose to install one after purchase.

Among respondents whose vehicles came with a free trial, 51% say they kept the service after their trials ended and now pay a monthly subscription fee. Interestingly, among those who currently do not pay a monthly fee, 45% said they never had to pay, which is indicative of strategies to bundle connected services into the vehicle purchase price, depending on vehicle manufacturer and even wireless service provider.

Another 20% said they cancelled their subscription. The stickiness of these services ultimately comes down to how drivers plan to use them. If basic functions are available for free, then it lessens the need to pay for more advanced features, leaving consumers to decide on the importance of actually paying extra for those advanced features.

For respondents currently paying for connected services or on a free trial, navigation (42%) is the most popular connectivity-enabled feature, followed by stolen vehicle locator (40%), roadside assistance (39%) and service/maintenance alerts (39%). In fact, looking down the list, there is a good number of services that are available across at least one-third of available subscriptions.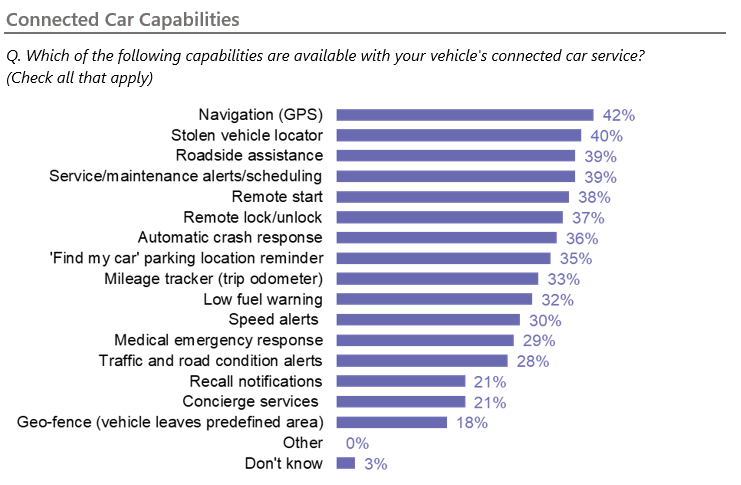 Among these various services, navigation (77%) was the connectivity feature deemed most important, followed closely by automatic crash response (76%). Stolen vehicle locator (71%) and remote lock/unlock (71%) are also scored as very high in importance. To make these services more relevant to potential users, car manufacturers and third-party service providers should take heed of what capabilities consumers say are most important and their willingness to pay for them. Providing the right combination of connectivity services at the right price is increasingly a key differentiator in an ultra-competitive automotive industry.
---
Want insights on business technology trends delivered to your inbox? Join the 451 Alliance.