Let's dig deeper into the most popular smart home device: smart speakers. The Q4 2021 451 Research connected customer survey results show Amazon continues to be the leader in the smart speaker market with the four most popular devices:
the Echo (37% of respondents own one)
Echo Dot (26%)
Echo Plus (14%)
Echo Show (13%)
Yet Google continues to make inroads as a solid second, with the respondents owning the following:
Home (13% of respondents)
Home Mini (10%)
Nest Hub (8%)
Nest Audio (6%)
Nest Mini (6%).
Apple's HomePod (6%) is holding steady.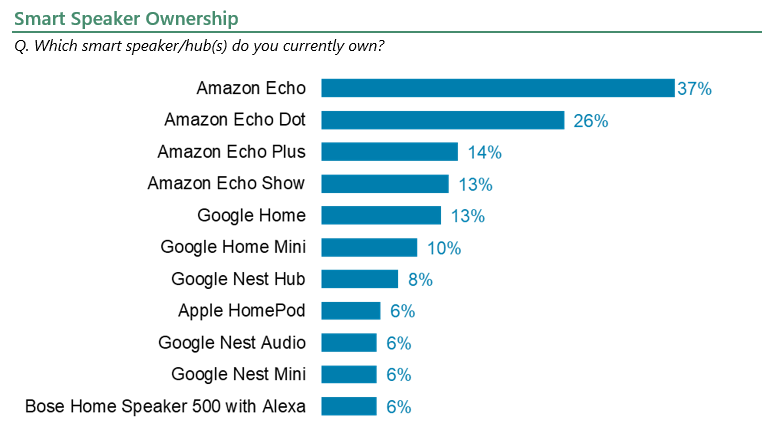 In past surveys, Amazon backed up its leading market position with the highest satisfaction ratings among smart speaker owners. While its ratings are still high, Google's devices are now being rated on par with Amazon. Amazon's Echo Plus (76%) has the most respondents who say they are very satisfied with their device, followed by the Echo Spot (70%), Echo (68%), and Google's Home (65%).
Frequency of use, another important indicator, is a little more mixed. The survey finds that 60% of Amazon Echo Dot, 55% of Echo and 55% of Google Home owners use their smart speakers daily. Additionally, the Echo Show (53%) and Echo Plus (51%) also top 50% daily usage. As newer devices continue to come onto the market, it will be interesting to see whether Google is able to produce devices that are able to beat Amazon in satisfaction and usefulness.
Smart Speaker Use Cases
We also asked respondents who currently own a smart speaker to identify the ways they use their devices. The most common use was streaming online music (61%), followed by getting weather (49%) and asking for general information/facts (48%). In fact, eight of the top 10 use cases continue to involve some kind of data or information access. The usage cases that were not data-related were controlling smart home devices and making phone calls, both of which are up compared to previous surveys.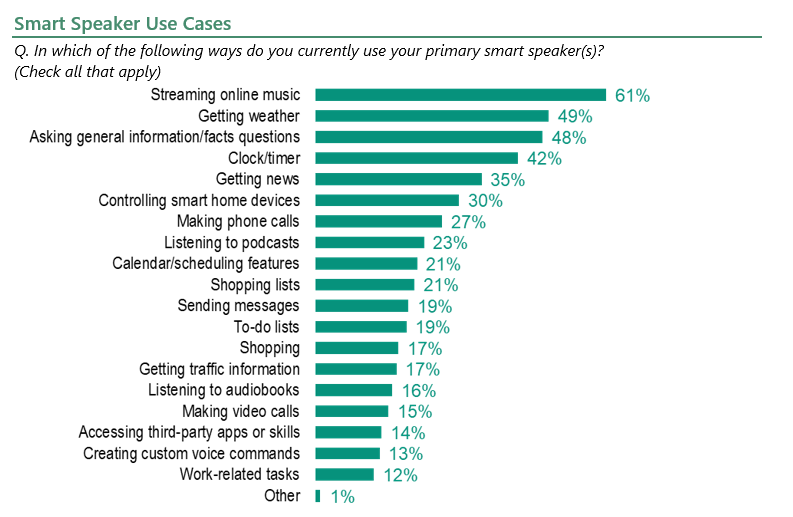 In a separate question, we asked respondents if owning a smart speaker has resulted in them purchasing additional smart home devices. Forty percent said yes while an additional 38% said no, although they are considering it. This finding supports our belief that smart speakers can be important gateway devices that motivate consumers to buy additional devices for their homes.
---