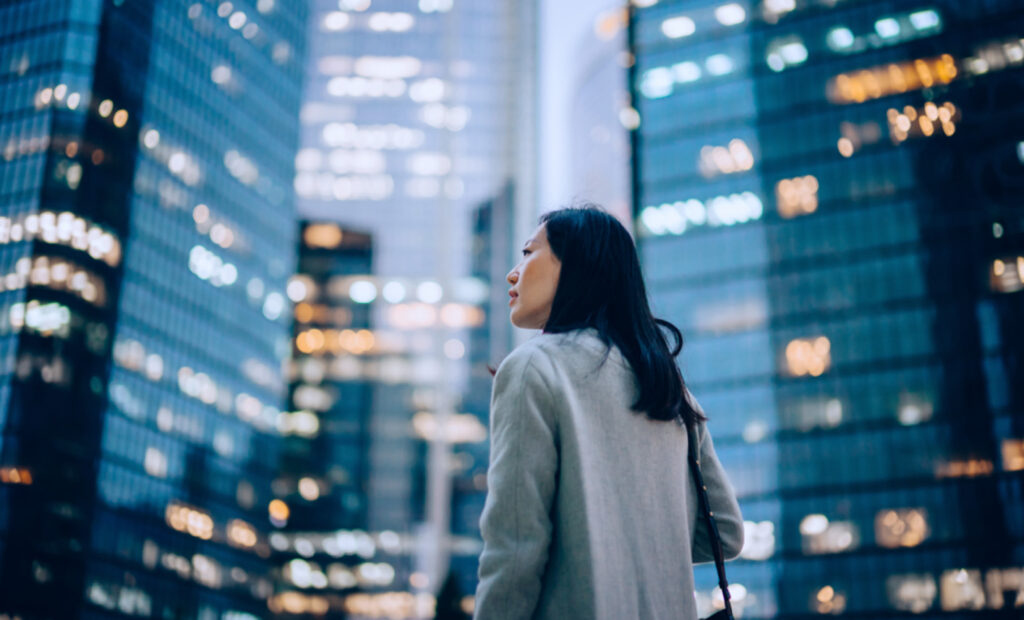 Human resources is not exempt from the AI boom. In fact, HR's work at the forefront of workforce transformation and remote/hybrid work in the wake of the COVID-19 pandemic makes it one of the business units that could benefit most from investments in these technologies.
According to 451 Research survey data, adoption of these technologies has actually crossed into the majority among HR departments. HR's legacy as a compliance center will be tested by this change, but massive impacts are on the horizon for recruiting; diversity, equity and inclusion (DEI) efforts; performance management; and more.
The Take
While HR is no stranger to technologies like AI and machine learning, its investment in these areas tends to be more calculated and purposeful than those of other business departments, given the sensitive nature of the employee data it needs to use in its analysis and calculations. This does not change the fact that, once properly deployed, AI has the potential to upend the way certain HR processes are approached and how people are managed.
With added intelligence, managers and business leaders get more clarity across the employee life cycle, from elements of talent attraction, skills and team building to attrition-prediction insight. This helps managers at the team level, and could be coupled with financial planning and analysis or corporate performance management technology to further evolve headcount planning and resource management. Like all other areas of an organization, HR stands to benefit heavily from AI, if HR leaders can overcome the buy-in and headcount challenges in their departments today.
Context
According to 451 Research's Workforce Productivity & Collaboration, Employee Lifecycle & HR 2023 survey, AI technologies are in use in a majority of HR departments. When asked to list which technologies were in use in their HR department, 55% of our HR respondents listed AI/machine learning as the top response.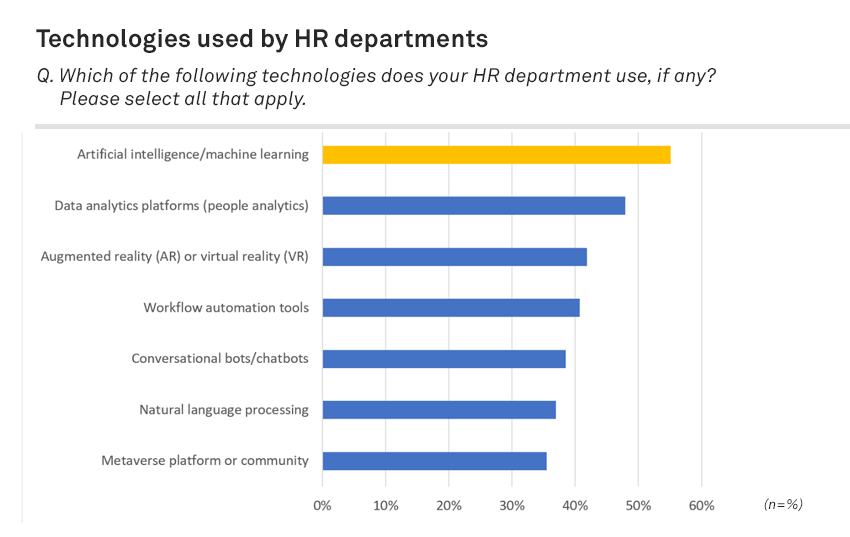 This adoption and deployment of AI technologies has paralleled, and perhaps influenced, a shift in strategic priority. When asked about the most important strategic focus for their organization's HR department over the next two years, 46% of those same respondents listed "complying with new laws and standards (e.g., for using AI in recruitment, or for using personal data)" as the top response. While pervasive AI creates new challenges for HR in remaining compliant while using employee data, it also sets the stage for transformation among the remaining strategic foci of the department, including talent acquisition, HR process improvement, employee engagement and retention, performance management, and DEI.
Talent acquisition
AI in recruiting and talent acquisition got a lot of interest in the late 2010s with stand-alone intelligent hiring assistants like Paradox's Olivia and its competitors automating processes like interview scheduling. However, those vendors soon expanded their portfolios to include other hiring and candidate evaluation tools while broader recruiting suites began developing or acquiring their own intelligent assistants. One example of this would be SmartRecruiters' SmartAssistant. We also see AI starting to prove itself in talent sourcing with vendors like Fetcher, Findem and others automatically finding relevant candidates and reaching out to them on behalf of the employer through custom email campaigns and other channels.
Beyond these use cases, we see the growing pervasiveness of generative AI (GenAI) beginning to affect other recruiting processes and elements of the recruiting tech stack. Perhaps the best example of this is Phenom with its generative AI product Phenom X+, which can generate job descriptions, brand content for job sites and interview feedback, as well as create emails, text messages, WhatsApp messages and more for contacting candidates. Additionally, generative AI similar to what is in Phenom X+ can be used to scale natural language search experiences and improve chatbot responses, which has implications well beyond recruiting.
Self-service access
When we asked non-HR employees about the improvements they would most like to see from their organization's HR department, 43% said better tooling for self-serve access to HR systems. In many "human capital" management suites and tech stacks, this comes in the form of a chatbot or virtual assistant, which, as we see in the figure above, are deployed at roughly 39% of HR departments we surveyed.
These chatbots and virtual assistants have grown as part of the recruiting stack, as noted, but we are also seeing stand-alone assistants and those as part of an integrated suite acting as a self-service tool for employees to access their benefits, understand available PTO hours, make time off requests and more. Companies like Espressive offer this access across both HR and IT resources, using AI to differentiate between HR- and IT-specific requests for routing. Advances in generative AI and machine learning will only help these tools to be more personal and contextual in the future.
Attrition prediction
Visier's acquisition of Yva in May 2022 was one of the most talked-about deals in the people analytics space that year. While the stated goal of the acquisition was to combine the forces of Visier and Yva into a collaboration analytics tool, the legacy of Yva is much more interesting. When we wrote about Yva in 2019, the company was using AI to predict the key employees who were most likely to resign. Other vendors like meQuilibrium use specific analytics to measure what it calls "workforce resilience," which seems to be adjacent to attrition risk.
Broader corporate priorities have waxed and waned in recent years, from talent acquisition in the wake of the Great Resignation to talent retention in the face of economic uncertainty. In 451 Research's Macroeconomic Outlook: Business Trends, Digital Transformation 2023 survey from May 2023, respondents listed employee retention, engagement and upskilling as the top priority (32%) for their organization over the next 12 months. This beat out data security and privacy (29%), product development (27%), and business expansion (27%). With this leadership focus on employee retention, we expect renewed interest and investment in AI-powered tools to predict attrition risk and intervene.
Upskilling and internal mobility
The primary improvement team managers wish for in managing the skills of employees on their team is automated matching of skills and development areas with the specific opportunities to learn those skills (i.e., intelligent skills gap analysis), according to our Workforce Productivity & Collaboration, Employee Lifecycle and HR 2023 survey data. While AI is often deployed in recruitment to match candidates to open positions based on their skills and experience, there is a growing trend of intelligent skills gap analysis among internal employees as well.
This trend stands to affect performance management and learning and development the most, and we are already beginning to see some of the vendors in the space focus on skills intelligence — Workday Skills Cloud is one example. There are also tools like eloomi that look to bridge the gaps between learning, skills management and performance management.
Diversity, equity and inclusion
In terms of supporting their company and equipping employees for the future of work, the top priority noted by 54% of HR professionals is "investing more time and resources into DEI," according to our Employee Lifecycle and HR data. We also find that 82% of HR respondents say their organization either has a formal DEI program (37%) or is in the planning stages for one (45%).
One of the challenges with building a DEI strategy is the sheer number of data sources and inputs needed to measure disparities in equity or inclusion. AI and machine learning show promise for aggregating and measuring trends within multiple large data sets, and could be used to help measure against key DEI metrics. Companies like Syndio that measure equity in pay and employee opportunity through what they call "transparency analytics" could be a good fit for an AI application, especially if they wanted to connect this data into a broader financial planning and analytics tool for payroll budgeting.
Challenges
Leveraging AI effectively in HR will be difficult. Even though HR skill requirements are evolving more toward being data-driven and using intelligence, HR faces the same talent shortage as other business units and has trouble recruiting into its own department — in fact, that is the second-biggest challenge (46%) noted by HR respondents in our Employee Lifecycle and HR survey data. If HR cannot grow its skills quickly enough or partner with an IT stakeholder to ramp up AI use, it will face friction in recruiting technical HR pros to move this strategy forward.
HR also struggles to get buy-in from corporate leadership (43%) and other departments (39%). This could put a damper on its AI plans if HR cannot convince leadership it needs the budget for AI tools or if it cannot convince other departments to share the data and expertise needed to integrate systems for worthwhile analysis.
---
Want insights on workforce productivity and collaboration trends delivered to your inbox? Join the 451 Alliance.