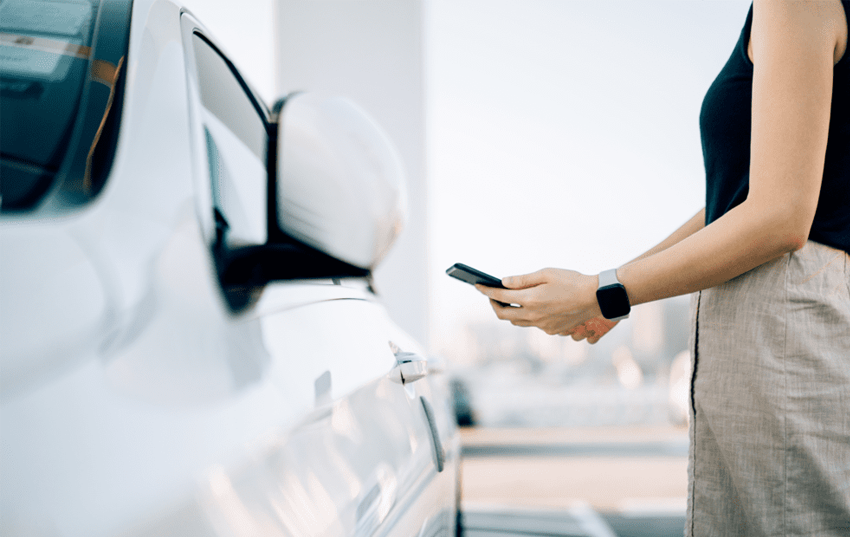 Connected cars — vehicles that can send and receive data wirelessly — have been on the road for decades. General Motors Co. was the first automaker to launch connected car services with OnStar in 1996, in collaboration with Motorola. From those relatively humble beginnings, connected vehicles have evolved to enable auto sector data-driven services and insight generated both inside (edge) and outside (cloud/core) the car. Data-driven services have a broad application range, including safety, maintenance and repair, entertainment, battery electric vehicle (BEV)-specific services, in-vehicle payments, and usage-based insurance, expanding the automotive ecosystem to new players and business models.
The Take
Connected services have evolved from basic safety and "infotainment" services to software-defined vehicle services such as safety and advanced driving assistance, AI, and on-demand digital services. The market-driving forces include regulations such as the emergency calling mandate in Europe, smart cities, vehicle-to-everything technology, 5G and IoT. As services have evolved, the opportunity for digital infrastructure players — from IT vendors to datacenter providers and cloud hyperscalers — has expanded as well.
The intersection of electric vehicles and connected car services opens up even more opportunities, as specific connected services are designed specifically for BEVs. The connected service application is easier in electric vehicles thanks to high software content and new in-vehicle architecture, opening a door for new revenue streams and expanding the ecosystem to include energy, charging infrastructure providers and battery manufacturers. Additional partnership opportunities emerge between the mobility, financial and insurance sectors. Despite rapid proliferation of connected services, consumer adoption of subscription-based models is at an early stage, with safety and driver-centric features the categories they are willing to pay for.
Vehicle data powers connected services
Fundamentally, a connected car has the capacity to send and receive data wirelessly. The onboard system that enables car data exchange is the telematics control unit, which includes a SIM card supplied by the mobile network operator. The TCU can be fitted in the head unit, in a stand-alone module or in a smart antenna. Connected vehicle data exchange is also viable by connecting a consumer device by Bluetooth or Wi-Fi. Device applications include smartphone integration services such as Android Auto and Apple Car Play, as well as onboard diagnosis dongles. The heart of the connected services opportunity is vehicle data. Connected vehicle data can be obtained from sensors, cameras, consumer devices, tires, TCUs and other electronic control units. Vehicle raw data is collected, analyzed, and processed onboard (edge), in the car manufacturer's or service provider's datacenters, and in the cloud, and can be combined with third-party data such as traffic data and road and weather conditions.
The advent of software-defined vehicles with powerful centralized computers and system on chip with higher connectivity and over-the-air capacities significantly expands connected vehicle data volume and value, which underpins the monetization opportunity for the automotive ecosystem.
Connected services overview
The connected service market offer has grown compared with its early days. Car manufacturer strategies diverge on how the services are packaged and commercialized. Free trials and subscription-based and one-off payments are the most used methods. Country application, local regulations and consumer demand shape the offer. Connected services can be categorized as driver-centric, electric vehicle services, infotainment and entertainment, maintenance and repair, safety and security, in-vehicle payments and usage-based insurance, and driver assistance services.
Driver-centric connected services
Connected navigation: The navigation system provides dynamic route guidance toward the destination or point of interest.
Real-time traffic: The navigation shows live traffic flow information on the road and optimized route guidance.
Send to car: The user can send a destination of a point of interest from a smartphone app or website to the vehicle display.
Map updates: The ability to update navigation maps via over-the-air updates.
Find my car: The ability to see where the car is parked from a smartphone app or website.
Parking with availability and pricing: The ability to find public parking garages and on-street parking availability. The navigation displays parking price, parking service providers and distance from the vehicle's location.
Remote control: The ability to unlock and lock the doors, sound the horn, and activate the lights using a companion smartphone app.
Digital key: The ability to access, start and lock the vehicle power with a smartphone app or connected device. It allows access for one or more users and personalizes the vehicle settings according to the user. It is commonly applied in mobility as a service.
Electric vehicle connected services
Remote charge and stop: The ability to start the charge, stop it and plan the battery charge using a smartphone application or website.
Remote climatization: The ability to remotely heat or cool the vehicle cabin using a smartphone app or website.
Charging station price and availability: The ability to find charging stations, occupancy rate, charging power, plug type and charging cost estimates in the navigation screen.
Electric vehicle route planning: Provides route suggestions by identifying charging stations along the way, considering the vehicle's range.
Proactive charging alerts: Sends real-time notifications to a smartphone app to schedule charging when battery needs charging.
Remote battery management: Collects data such as charging frequency, range added with each charge versus range used, and electricity usage to improve the charging behavior and optimize the battery life.
Vehicle to the grid: The ability to push back the energy from the battery to the electricity grid using a bidirectional charger controlled via a remote management system.
Plug and charge: The ability to charge the vehicle without the need for external identification. Plug and charge enables automated and safe communication and billing processes between the vehicle and the charging station.
Infotainment and entertainment connected services
Wi-Fi hotspot: The ability to use the car as a modem to connect to the internet. One or more devices can connect to the car.
Concierge services: Aid with dining recommendations and reservations, movie and theater tickets, medical help, airline reservations, and reminders for events such as anniversaries, birthdays and meetings, among others.
News: Access to the latest headlines on the navigation screen.
Weather: The infotainment system displays the weather in your current or future destination.
Office 365: The center stack display enables passengers to access email, calendar and contacts.
Music and video streaming: Allows customers to access Spotify, Deezer, Disney+, Amazon Prime, Netflix or other streaming accounts from the vehicle dashboard.
In-car gaming: Enables an immersive cloud-based gaming experience. Holoride, NVIDIA Corp. and Sony Group Corp., among others, have introduced partnerships with automakers in his area.
Voice controlled virtual personal assistants: Activate commands within the vehicle and outside the vehicle in a conversational style.
Air quality: The infotainment system displays the air quality in your current or future destination.
Smartphone projection: Access a phone's apps via the navigation touchscreen. Connection can be wireless or via USB port. Popular applications include Android Auto and Apple Car Play.
Maintenance and repair services
Remote diagnostics and predictive maintenance: The ability to remotely identify vehicle issues, report issues to the user and predict when the vehicle needs to be serviced based on in-vehicle data, historical data and trends.
Vehicle status: The ability to show real-time vehicle "health" information, such as oil level, tire pressure and battery voltage. Information is displayed in a smartphone app or the car manufacturer's website.
Service scheduling: The details of the vehicle status are sent to the service partner, who will contact to schedule an appointment.
Safety and security services
Emergency call or SOS button: In the event of an accident, e-call will connect to the national emergency number, pinpoint the location and view the information related to the vehicle condition.
Breakdown call: A direct line to the manufacturer's call center in case of a breakdown event.
Stolen-vehicle locator: Provides the location and enables vehicle slowdown via police control if a stolen car has been located.
Geofence: Utilizes virtual boundaries to prevent vehicle theft and misuse.
Traffic sign recognition: Uses live cloud data of vehicles ahead to make drivers aware of current or temporary speed restrictions.
Traffic light prediction: Provides a countdown to green light on the approach to the light using live cloud data from the city infrastructure.
Hazard warning and slippery road information: Informs the driver of potential hazards, accidents and road conditions along the route using live cloud data.
Drive recorder: Captures critical driving situations including accidents in road traffic via video. It can be activated manually or automatically.
Usage-based insurance and in-vehicle payments
Usage-based insurance: Uses real-time information about a driver's ability and habits to assess actuarial risk. Use cases include "pay as you drive" and "pay how you drive."
In-vehicle payments: The ability to pay for services like fuel, electric vehicle battery charging, tolls and parking onboard without using a physical card.
Driver assistance services
Parking assistant: Assists the driver in searching for a parking space; the system controls brakes and allows hands-off steering during parking.
Active cruise control: Automatically adjusts the speed of the vehicle to the driving environment.
Self-driving assistant: Allows hands-off operation of the vehicle by using information from cameras, sensors, LiDAR and precise localization.
Adaptive suspension: Automatically adjusts the driving style to the road conditions.
Adaptive headlights: The light projector moves to the left or right reflexively, allowing the driver to clearly see the part of the road they are turning toward, helping to reduce accidents and blind spots.
Customer voice — connected services adoption and willingness to pay
According to our Endpoints & IoT, Connected Services 2023 survey, connected service adoption has increased from one-quarter to one-third among survey respondents over the past two years; however, more than half of them are not paying for a service subscription as they are still on a free trial. It is a common strategy for car manufacturers to use free trials to retain the customers after the trial-period is over.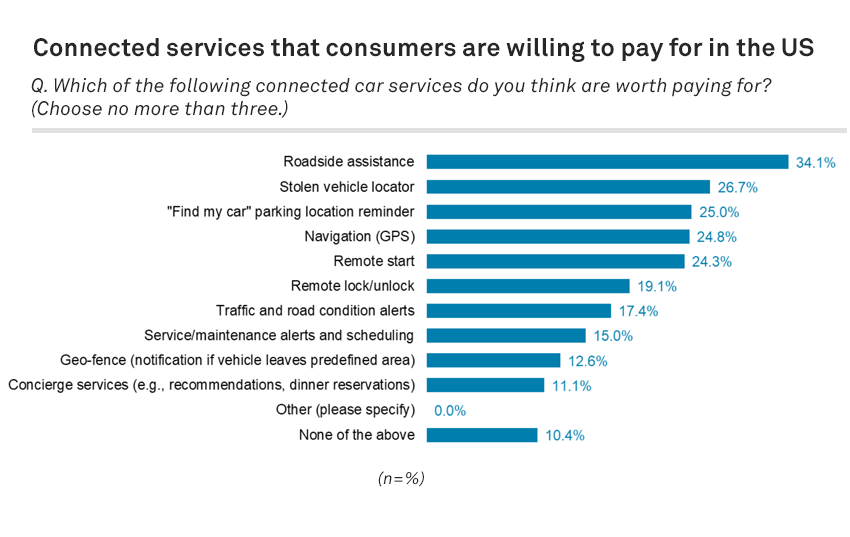 Connected car services and the digital infrastructure opportunity
Physical and digital infrastructure suppliers play a critical role in the development and expansion of vehicle connected services. With more connected vehicles on the road and car manufacturers increasing their business in digital services, more investments in the automotive vertical are expected in telecommunications network infrastructure and performance, AI and machine learning, cloud, powerful chips, and better operating systems to power software-defined vehicle over-the-air updates. Vehicle-to-everything and EV services required additional infrastructure investments such as roadside units, advanced traffic management systems, sensor networks, electric vehicle charging infrastructure and energy management — all with high edge compute venues.
New market opportunities, partnerships and business models should continue to flourish in the connected car service ecosystem. Both the car manufacturers and digital infrastructure providers have a role to play in driving innovation and profitability in this space.