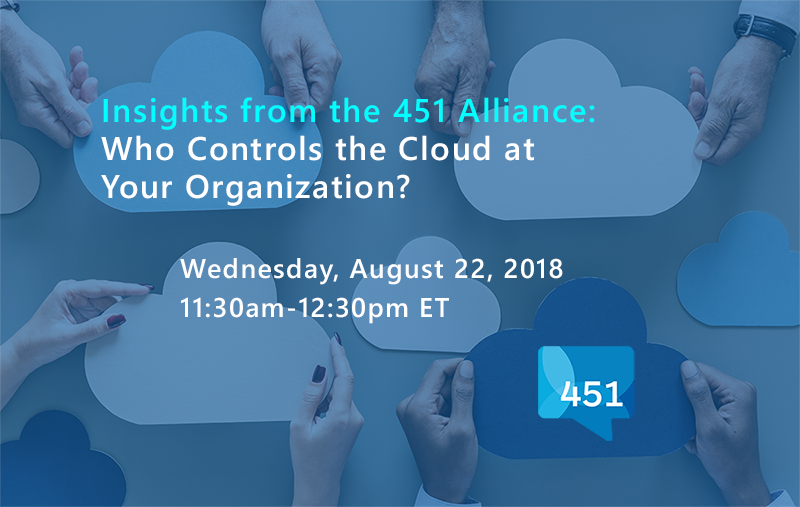 We're excited to invite members of the public to attend the webinar, Insights from the 451 Alliance: Who Controls the Cloud at Your Organization? on Wednesday, August 22, 2018, from 11:30am-12:30pm. These webinars are typically open only to 451 Alliance members, so enjoy this taste of exclusive IT insights.
As cloud platforms become more essential to how businesses operate IT, their influence can be felt throughout the organization.
As businesses progress through the stages of cloud maturity, they adapt to utility pricing models, implement governance and procurement processes, adopt strategies for controlling cloud spending, and seek out specific areas of platform expertise and certification.
At the same time, decisions around cloud spending have gone from developer experiments to major organizational choices made at the top levels of IT management.
Join Liam Eagle, Research Manager at 451 Research, as he examines these and other insights from 451 Alliance's Cloud, Hosting and Managed Services, a comprehensive quarterly study of more than a thousand of your peers worldwide to uncover organizational objectives and strategic trends in the cloud.
In this webinar you will learn about:
 Trends in cloud procurement, payment, and spending

Who influences cloud decisions and who has final say

The role of developers in cloud consumption

Which cloud skills are most important, and which are most lacking
Save your spot for this complimentary webinar by registering in advance: