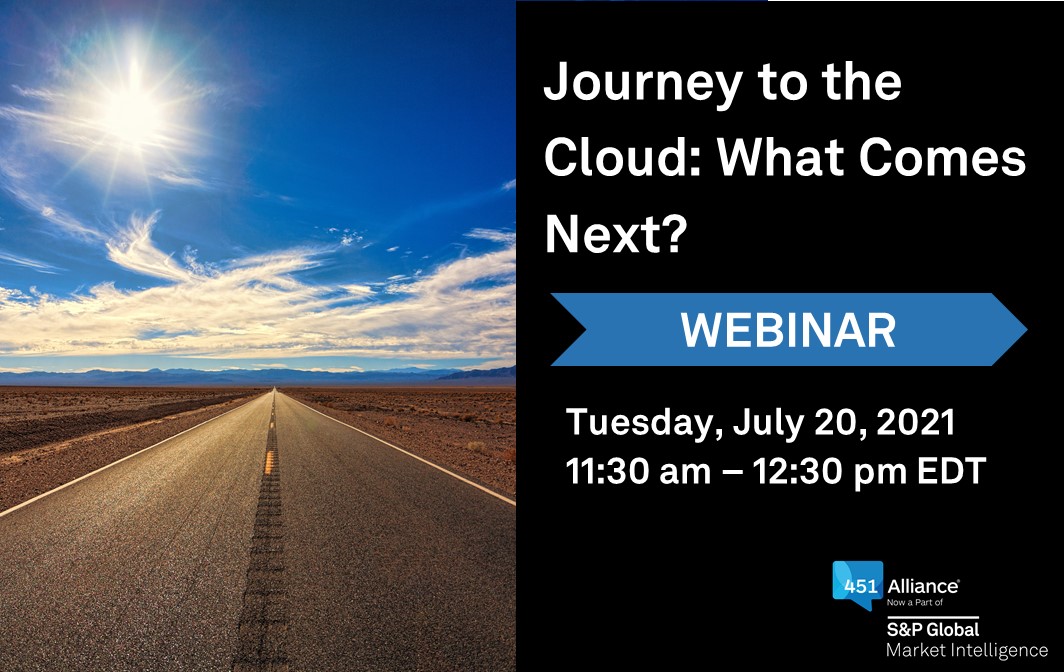 Join us at the upcoming 451 Alliance webinar, Journey to the Cloud: What Comes Next? on Tuesday, July 20, 2021 from 11:30 am – 12:30 pm EDT.
451 Alliance members will receive the slide deck and a recording following the presentation.
Not a member of the 451 Alliance? Submit an application to join the IT think tank and enjoy direct access to research insights.
Apply here to see if you qualify for membership:
Webinar Details
The cloud journey is no longer a "nice-to-have." Organizations face the imperative to engage, collaborate, and innovate in the evolving world of Digital Transformation.
Forward-looking IT leaders are embracing cloud as the deployment approach for IT resources, but migration brings complexity. How are enterprises approaching the many challenges of transformation?
Join Melanie Posey, Research Director at 451 Research, part of S&P Global Market Intelligence, to delve into these and other insights from recent 451 Alliance research on cloud, hosting, and managed services.
In this webinar, we'll discuss:
Managing IT complexity in the era of public cloud
Workload/application deployment environments: what does where?
Cloud native adoption and implementation: hype or reality?
Cloud skills gaps: the never-ending story