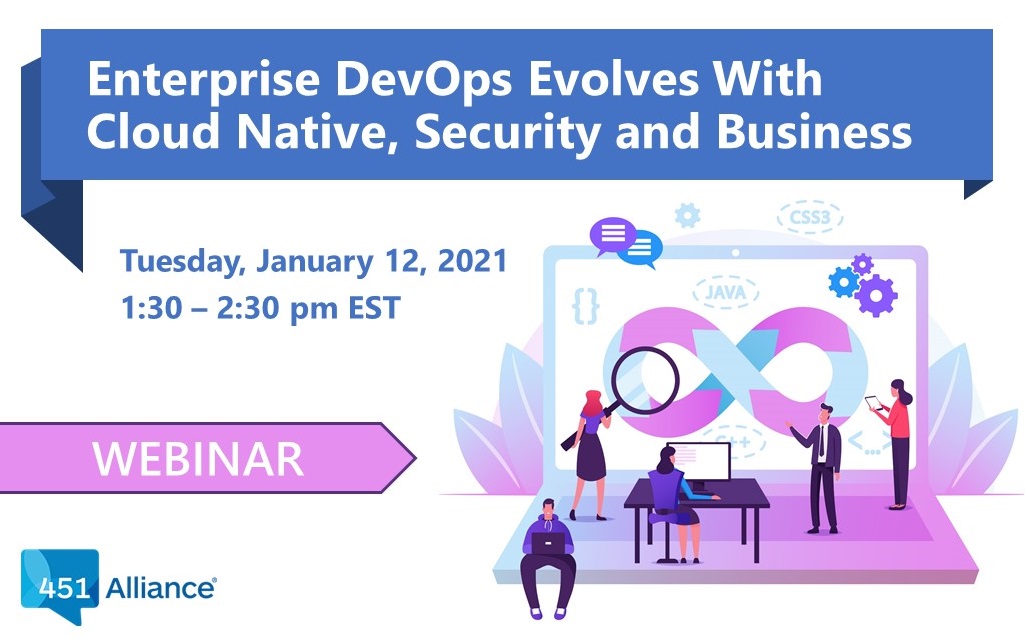 Join us at the upcoming 451 Alliance webinar, Enterprise DevOps Evolves With Cloud Native, Security and Business, on Tuesday, January 12, 2021 from 1:30 – 2:30 pm EST.
451 Alliance members will receive the slide deck and a recording following the presentation.
Not a member of the 451 Alliance? Submit an application to join the IT think tank and enjoy invitations to this and future webinars, the slide deck and recording, and unlimited access to our archives.
Apply here to see if you qualify for membership:
Webinar Details
Enterprise DevOps – the collaboration among developers and IT operators to achieve faster releases, more efficient IT management and organizational agility – has undergone dramatic changes since the trend's beginnings as a grassroots movement by 'cowboy developers' 10 years ago. Today's DevOps is typically a priority for management and leadership, who see it as a starting point for digital transformation.
In this webinar, 451 Research Senior Analyst Jay Lyman will share findings from 451 Alliance DevOps 2020 surveys about the major changes in DevOps, including the movement of initiatives from on-premises to the cloud, the stakeholder spread that pulls in other teams and personnel, and the top types of applications released in a DevOps manner.
The webinar will also cover these aspects of DevOps:
Challenges that include complexity, and lack of skills and experience
Drivers beyond just release speed and efficiency that include readiness for changes in the market
How organizations are measuring and proving their DevOps success
The impact of the COVID-19 pandemic on DevOps and cloud-native adoption
The continued evolution of the DevSecOps trend, which integrates security into DevOps releases