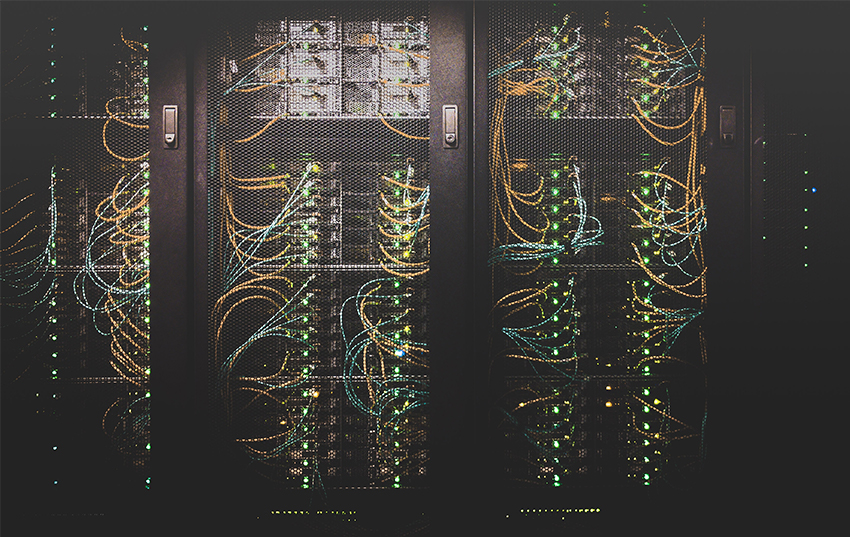 In his recent webinar, The Annual State of the Datacenter Address, principal research analyst Dan Thompson shared findings from a 451 Alliance study on datacenter strategies, technologies and usage. His presentation was followed by a lively Q&A session that illustrated a number of concerns IT decision makers and datacenter professionals have at a time when the traditional 'on-premises' IT environment is dramatically different from pre- pandemic times.
Among other topics, inquiries to the audience revealed the continued interest in helping their companies get out of the datacenter business and focus on operations more pivotal to their commercial success.
The shift from on-prem to off-prem
At the top of the webinar, Thompson explained that, while "IT leaders and business execs are [still] considering all types of locales for future expansion," the interest in company-owned and operated datacenters appears to be waning.
Instead, owned/operated facilities are being replaced by outsourced or hosted operations, rented colo space, and the use of cloud and IaaS.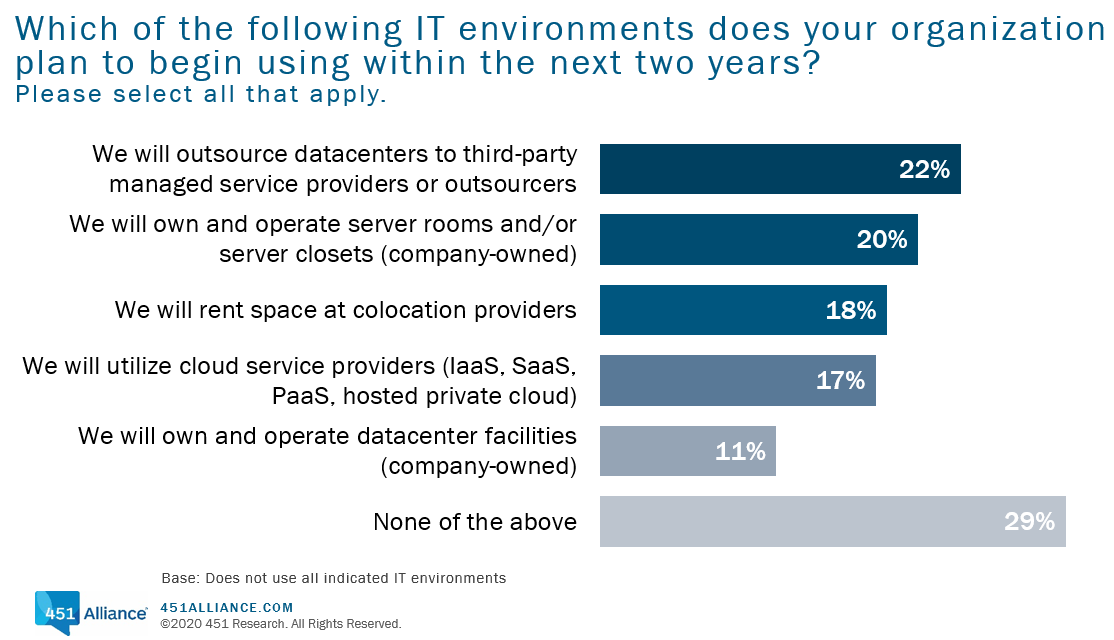 When it comes to choosing best venues for infrastructure today, he said, "companies are getting smarter about what goes where, and why."
Half of all enterprises migrated to colo in the past year
Thompson reviewed the study's metrics on datacenter size, power consumption, density, and the use of small data rooms. "Much to the chagrin…of the datacenter industry at large," he noted wryly, "people continue to use server closets and even single racks in offices."
As his attention shifted to alternative venues, Thompson dug deep into the topic of colocation, citing many reasons why nearly 50% of study respondents migrated applications or workloads from a company-owned datacenter to a colocated facility in the past 12 months. Improved reliability/uptime topped an extensive list of compelling rationales, as the chart below reveals.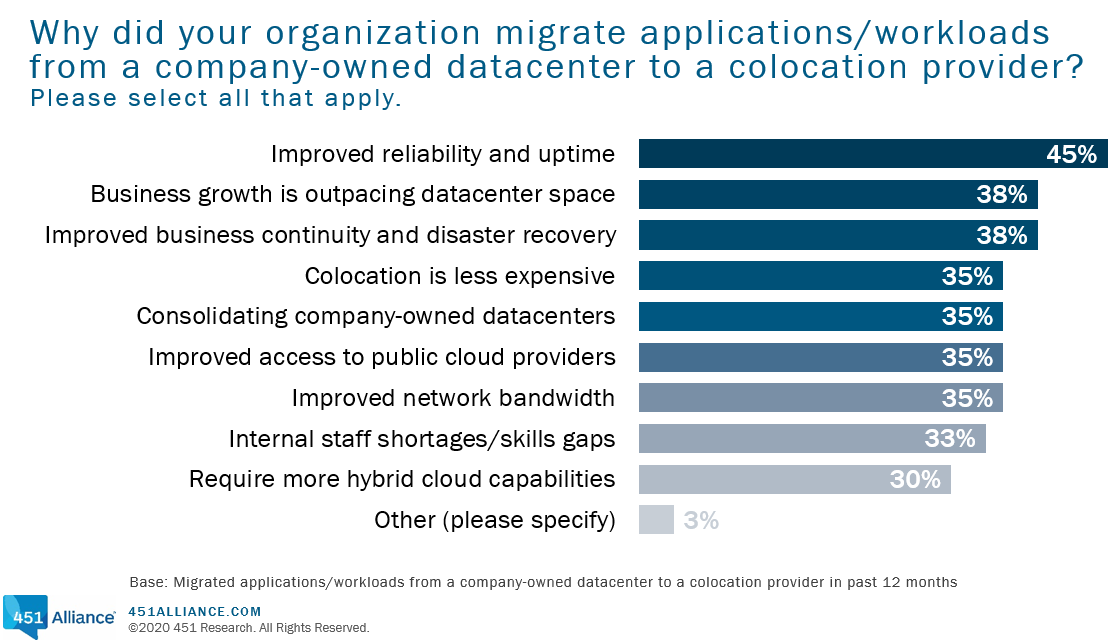 In addition, 41% of study participants said they migrated workloads from public cloud to colo, citing security concerns about the cloud (60%) and the relatively lower cost of colo (45%) as top motivators for bringing workloads down from above.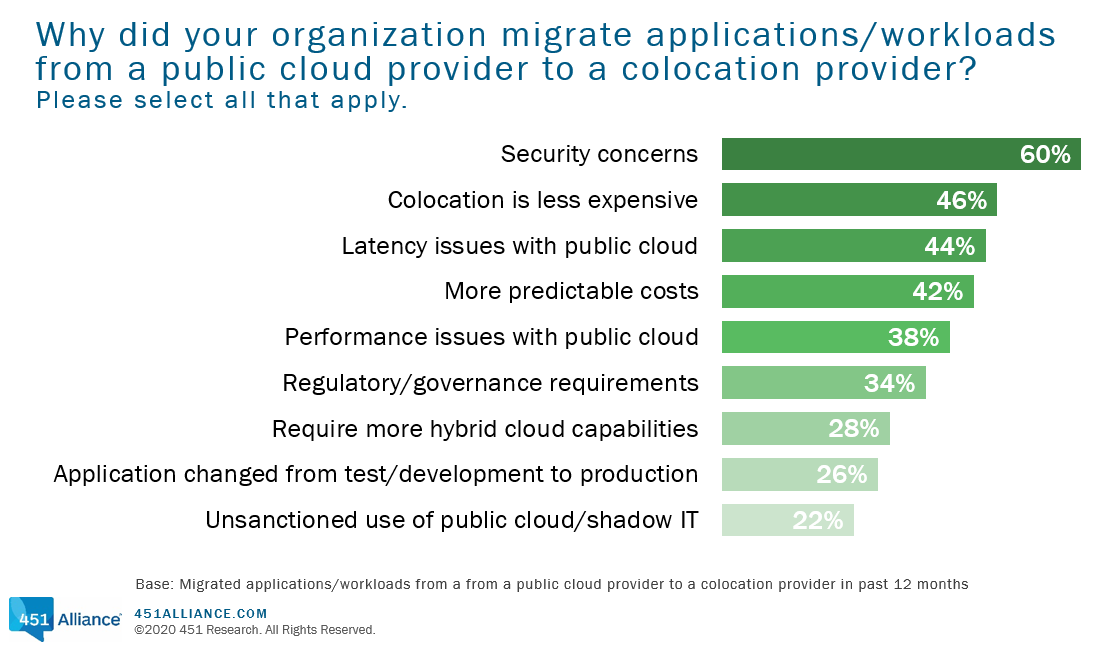 Practical concerns about datacenters
Alliance members attending the session posed a number of interesting follow-on questions, giving Thompson an opportunity to infuse his knowledge of the datacenter marketplace into a presentation of findings from the study.
When asked about the biggest drivers of power usage in the modern datacenter, Thompson remarked, "IT people are notorious for not getting rid of things. We, as a community, are hoarders." He added, "I think as we push into these artificial intelligence workloads, as we begin to leverage machine learning more, the compute required for those things is tremendous."
IT people are notorious for not getting rid of things. We, as a community, are hoarders.

Dan Thompson, 451 Research Analyst
When another attendee asked about the effects (to date and ahead) of the coronavirus on on-premises datacenter footprints, Thompson answered with a rhetorical question of his own:
"Does a more distributed workforce demand a more distributed architecture? We're seeing companies in the early stages of that. By and large, companies are reevaluating all of their real estate, including their datacenters."
About 451 Alliance Webinars
Thompson's talk, titled The Annual State of the Datacenter Address, was the most recent installment of a well-received and attended 451 Alliance webinar series covering a spectrum of IT topics. Each month, a lead analyst with 451 Research presents findings from a study in his/her area of focus, and all Alliance members are invited to attend as part of the extensive suite of Alliance membership benefits.
Visit the 451 Alliance member portal for more information about our ongoing IT studies, our qualitative phone research, and the rich collection of informational resources available to you on demand at no cost.