451 Alliance members are routinely asked about their overall cloud computing. The goal? To find out whether cloud is seen as just another next-generation infrastructure environment or whether it's a foundation for a more fundamental reimagining of IT and/or a proactive way of getting out from under the technical debt of legacy applications and infrastructure.
Data from a recent 451 Alliance survey suggests that a major shift in organizations' overall approach to cloud transformation may be underway.
IT professionals seem to be taking a more pragmatic view, seeing the transition to cloud not so much as the embrace of a radically new approach to IT, but as an opportunity for IT refresh, reorganization, and reinvention. As a result, we may be reaching the 'beginning of the end' (homage to Winston Churchill) of the initial 'lift-and-shift' phase in organizations' journey to cloud.
Journey to the Cloud: Beyond 'Lift-and-Shift'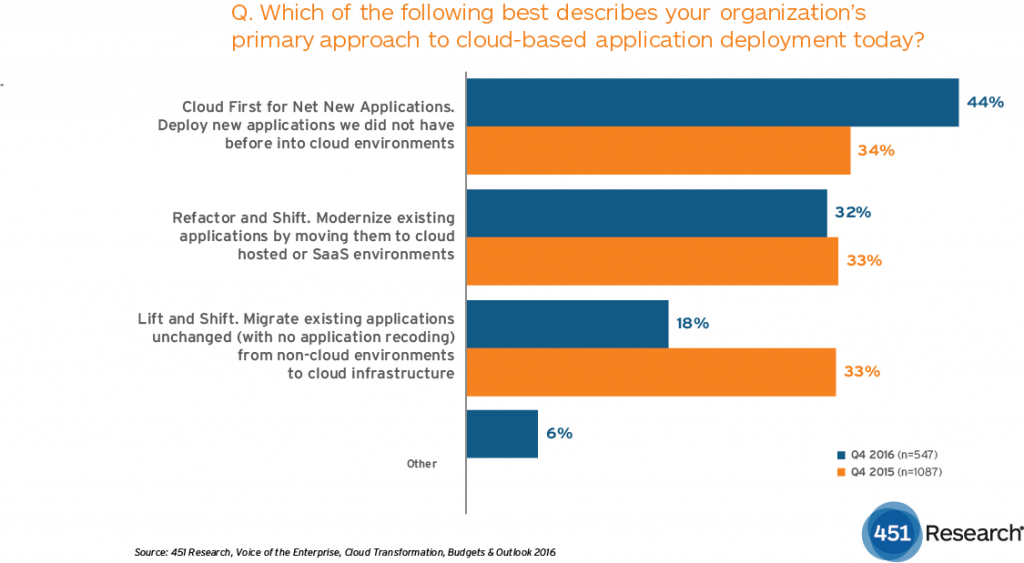 Organizations were evenly split in their approaches to deploying applications in cloud environments at the end of 2015:
Basic lift-and-shift of existing applications into new infrastructure environments (i.e., cloud)
The more complex approach of leveraging cloud environments as a way to both modernize applications and shift them off-premises
The more forward-looking 'clean slate' approach of tapping cloud environments as the execution venue for new applications and workloads that factor into broader digital transformation initiatives.
By the end of 2016, basic lift-and-shift as a primary swim lane in the enterprise journey to cloud appeared to have run its course. One factor is that organizations simply ran out of legacy applications running on end-of-life hardware. Alternatively, organizations are revising their thinking on existing legacy applications, preferring to just retire them or simultaneously refresh the application and the infrastructure through factoring for operation in a cloud environment.
Making Most of Cloud-Based IT
A few years ago when cloud was cutting-edge emerging technology, the industry buzz was all about getting into the cloud. Now that about 90% of organizations use some type of cloud environment (public or private, on-premises or off-premises) for their workloads and applications, a new issue arises: how can organizations leverage cloud to transform their IT environments?
Here are a few ways to get there:
Take an inventory of existing applications and workloads. Don't assume that the entirety of legacy IT needs to be lifted and shifted to the cloud. We commonly hear from Alliance commentators about apps that are too old to run in the cloud and that are therefore prime candidates for retirement.
Cloud environments provide an ideal opportunity for application/workload overhaul. Organizations' cloud strategies (especially with regard to public cloud environments) are often top down decisions. This situation opens the door for senior-level IT practitioners clean up homegrown application code, explore open source alternatives, and/or implement more agile approaches to application development.
Be aware of the multiple drivers of cloud adoption. The majority of organizations once pointed to cost savings as the primary motive behind cloud adoption. Now, however, agility, time-to-market, scalability and other issues are increasingly part of the mix. Organizations should think about which factors are most important for the individual workloads or projects being considered for placement across the range of cloud environment options.
There is no 'One Cloud to Rule Them All.' Public cloud IaaS exists alongside on-premises private cloud, private cloud stacks co-located in third-party datacenters, hosted private cloud services, and SaaS as options for workload placement. Even organizations adopting a 'cloud-first' approach to net-new applications and IT projects will likely need to leverage existing on-premises 'systems of record' as part of the overall workload.
Our research shows that organizations are toward the cloud-first approach for individual IT projects and for IT overall. This new direction signals progression along the cloud maturity curve, which means that IT decision-makers and practitioners will need to develop IT processes, policies, and personnel that are in line with modernized agile, flexible infrastructure.
---
Do you have your finger on the pulse of tech trends? Join the 451 Alliance for exclusive research content on industry-wide IT advancements. Do I qualify?