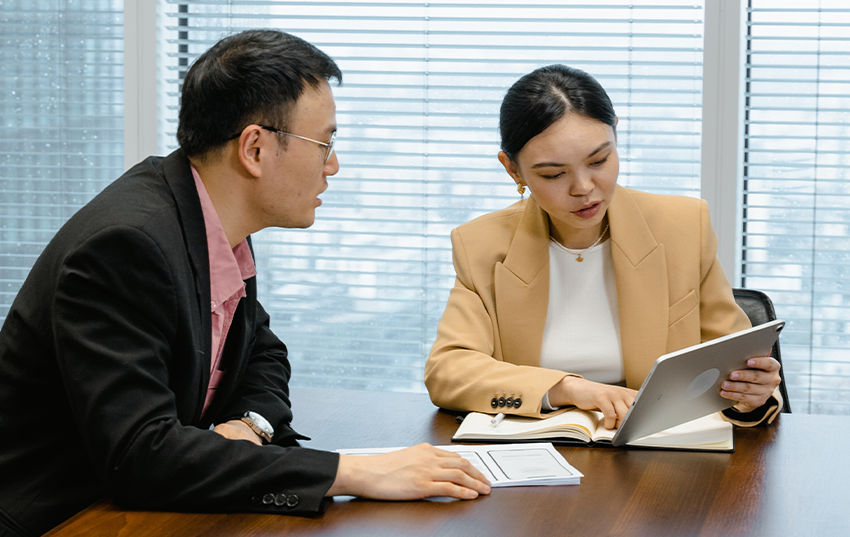 The 451 Alliance's November 2021 IT Spending survey found drops in planned spending on laptops compared with the previous survey in August. Meanwhile, tablet and desktop purchasing are only down slightly.
Business PCs Outlook
Corporate spending plans for laptops (44%; down 4 points) and desktops (17%, down 1 point) in the first quarter are showing drop-offs compared with our previous survey in August. These findings are in-line with the quarter-over-quarter slowing seen in overall IT spending that we explored in a recent member report. With that said, the results for both device types remain improved compared to six months earlier, which is likely due to carryover from the pent-up spending we saw in the previous survey.
Smaller companies show much lower spending plans for laptops (30%) and desktops (14%) compared with larger companies (71% and 23%, respectively). Larger companies have more flexibility to update the devices their employees need. With that said, both groupings are showing remarkable stability increases in planned spending.
Dell (49%) remains the top laptop choice by companies, maintaining its lead over all other manufacturers. HP (26%), Apple (25%) and Lenovo (24%) are the only other manufacturers with double-digit demand. This second tier of manufacturers continually bunny-hop one another because they remain highly competitive in this space.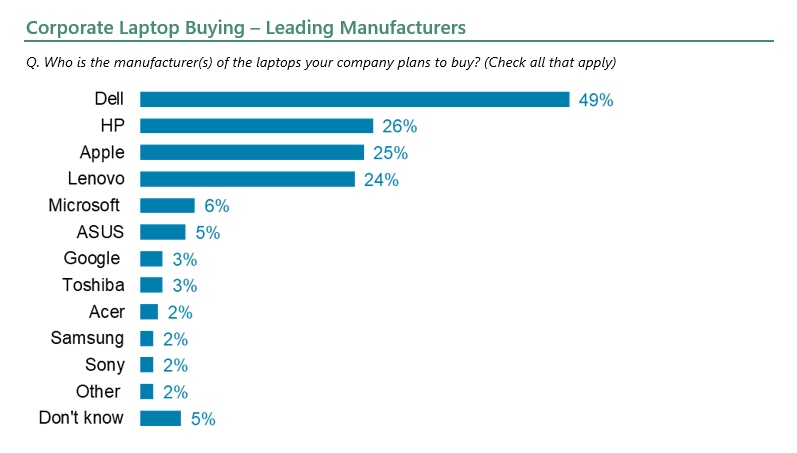 In terms of desktop purchasing, Dell (50%), HP (22%), Apple (19%) and Lenovo (12%) remain the leading manufacturers. It's actually quite interesting to see stable spending on desktops, considering the higher mobility of the workforce due to the pandemic. Returning to offices, even if interrupted, must still be enough to update equipment for on-site employees.
Business Tablet Outlook
Business tablet buying plans (9%) are down slightly compared with last quarter's survey. These findings are somewhat surprising, as it's been generally assumed that making employees more mobile meant giving them tablets, but once again based on the results discussed above, it looks like companies are providing laptops (and potentially smartphones) for better mobility instead of tablets.
The survey shows much higher tablet purchasing for larger companies (>250 employees; 15%) compared with smaller companies (<250 employees; 6%). Larger companies, which generally have more flexibility than smaller ones, are able to keep employees up to date with the resources they need, while smaller companies tend to make do with what they already have in place. And when smaller companies do make purchases, they try to focus on devices that will give them the most bang for the buck.
Apple continues to hold a commanding lead among companies planning to buy tablets. Like corporate smartphone purchasing, Apple is firmly in the top spot. Microsoft, Samsung and others remain distantly behind Apple, yet have their own spirited competition to stay ahead of the next tier of manufacturers. Over the last year, they've continued to flip-flop each other, and this jockeying for position will likely continue for the foreseeable future.
---
Want insights on business technology trends delivered to your inbox? Join the 451 Alliance.