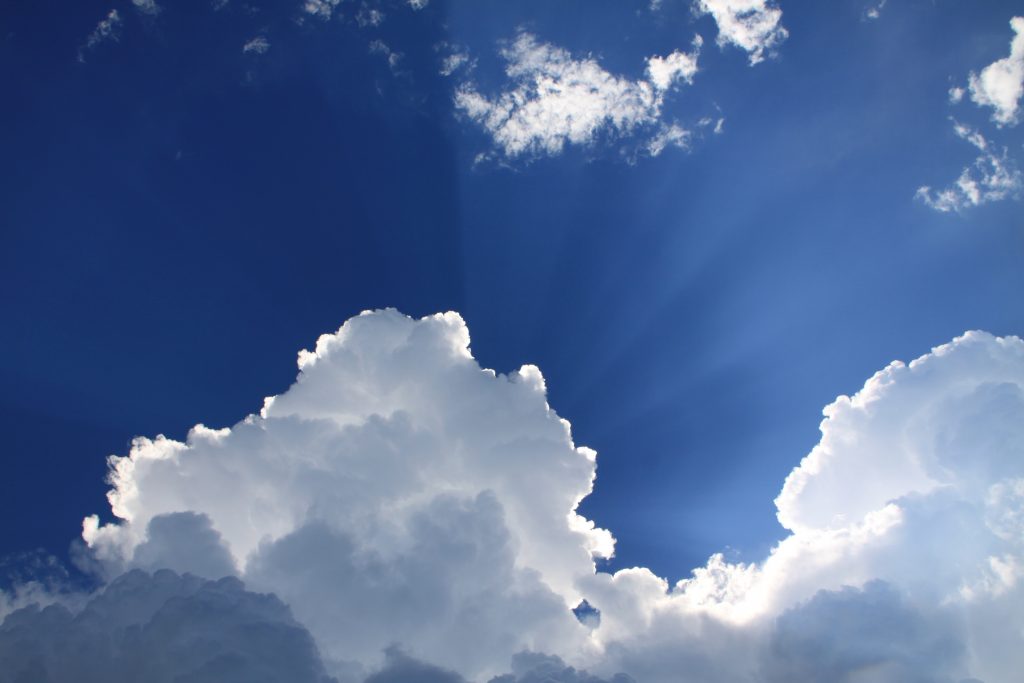 Adoption of hosted and cloud-based services is accelerating, as businesses deploy new workloads into hosted and cloud environments and migrate existing workloads into hosted application and infrastructure.
451 Alliance members recently indicated how they expect that trend to unfold over the next two years, at a workload level. Overall, responses show a continued shift of spending toward hosted infrastructure and application environments, and a decreasing reliance on internal IT resources. Spending on internal resources is expected to decrease from 63.3% of the total in 2017 to 38.3% in 2019.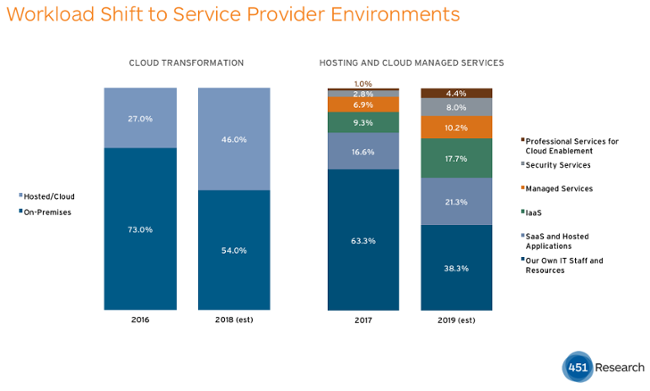 They also show a growing investment in managed services, security services and professional services, consumed in connection with those hosted and cloud environments. Together, that portion of spending is expected to go from 10.7% in 2017 to 22.6% in 2019.
Managed Services – Cloud Maturity?
The numbers illustrate an overall trajectory (toward the cloud), but also two specific trends – the hosting of workloads in external service-provider environments, and the hand-off of responsibility for operational management and application security to service providers.
Though they are part of the same big-picture process, in-depth interviews with 451 Alliance members suggest that, for many businesses, these two trends represent separate stages of deployment, and in some cases entirely separate decision-making processes.
We can see this happening at an individual workload level via the current state and future plans for workloads such as email and CRM, the workloads for which the largest portion of current spending is currently on SaaS and hosted applications (35.2.% in the case of email, and 47.5% in the case of CRM).
Neither of these workloads sees a significant increase in expected spending on SaaS and hosted applications over the next two years (the workloads are already deployed in the cloud); however, both see increases in spending on security services and professional services, and CRM sees growth in spending on managed services.
Interviewees describe the adoption of these services in addition to what they're already consuming as another ideological shift for the IT organization, and in many cases a barrier to adoption (giving up control). It is often undertaken in the interest of fully realizing the promise of hosted or cloud services, modernizing cloud implementations and making them 'enterprise ready' and freeing up their internal IT staff to do work more important than routine maintenance.
Top Four Decision Drivers – Why Look to Outside Help?
Like so many business functions, what the IT organization may see as an ideological choice is often a cost-benefit analysis for the business overall. In principle, the benefit of keeping management of cloud-based workloads internal is that internal IT staff can do it better, cheaper, more securely or all of the above (certainly a possibility). If you will not outperform in any of these areas, however, there may be a clear benefit to engaging managed services. Businesses that have embraced managed services cite the following factors as the top four drivers of that decision:
1. Skills Gaps: The most frequently cited reason is bridging a gap in internal skill sets. The skills in question frequently have to do with the design and operation of hosted or hybrid cloud environments, or the execution of a specific application. The skills factor overlaps with other factors, such as security and cost management, for which businesses may seek external expertise.
2. Cost: Of course, managed application or infrastructure services cost more than their unmanaged equivalents. However, many respondents look to hosted and cloud services as a cost reduction measure, allowing them to free up or reduce datacenter resources or staff. External expertise can also help optimizing cloud infrastructure usage for cost, creating savings that far outweigh the cost of managed services.
3. Security: A partner with expertise in executing securely in the cloud can help to address some of the security challenges inherent in operating workloads in hosted or cloud infrastructure, and can be instrumental in achieving certain aspects of regulatory compliance.
4. Time to Market: Unfamiliarity with the cloud environment can lead to difficulty designing, implementing and operating the platform, as well as challenges migrating data to the hosted application. This can result in significant delays, or even failure, in the execution of a hosted or cloud-based application. Working with a managed service provider expert in this type of deployment can accelerate production and help ensure a project's success.
As your organization plans cloud projects, or evaluates existing hosted and cloud deployments, take a critical look at each key decision driver. Can your IT staff truly operate that deployment better, cheaper, faster, and more securely than a service provider? If not, employing managed services may be a cost-saving measure that could improve performance and security, and free up your staff to work on other important projects.
---
Do you have your finger on the pulse of tech trends? Join the 451 Alliance for exclusive research content on industry-wide IT advancements. Do I qualify?